Plant Kingdom – Examples, Classification and Characteristics
The Plant Kingdom or the Kingdom Plantae comprises 17% of the total species studied by mankind till date. In number, it comes out to be nearly 2,21,000. Isn't it large? Interestingly, this number is only 15% of the total species of plants present on the planet Earth. Plants exhibit great diversity in characteristics. Some of them are microscopic and invisible to eyes and then there are other as huge as a banyan tree. Due to their large number and varying characteristics, it is impossible to study them individually. So, in order to help, all members of the plant kingdom with similar characteristics are clubbed together to form groups. We call this process – classification of plant kingdom or kingdom Plantae. In this post, we will learn about the different basis used for classification in Kingdom Plantae, along with examples and characteristics of each group.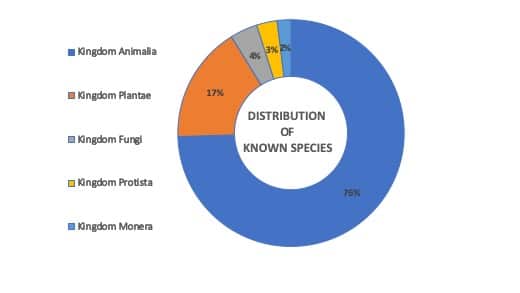 PLANT KINGDOM CLASSIFICATION
Plants are useful to all of us. They provide us useful products, for examples – (i) cereals like wheat, rice (ii) fruits like banana, apple, mango (iii) vegetables like potato, spinach, beans, tomato (iv) sugar, tea, coffee (v) wood for our home (vi) medicines and number of other items. How these large numbers of products became available to us? It is because there is a great variety of plant life on the planet Earth. They differ in habit, habitat, types of plants, size, duration of life cycles, mode of nutrition and various other characters. Many plants have also developed special organs for performing special functions like climbing and protection.
We can classify the Kindom Plantae in numerous ways, however, the most common one is division in a group of non-flowering and flowering plants.
Non-flowering plants do not bear flowers. For example, Chlamydomonas, Spirogyra, mosses, and ferns.
Flowering plants, as the name suggests, bear flowers. For example, mango, rose, sunflower, sugarcane, grass, pine, fir, and cedar
Due to the varying characteristics of flowering plants, they are further classified based on habit, duration of the life cycle, mode of nutrition and habitat.
1.0 NON-FLOWERING PLANTS
Nonflowering plants have three classifications – Algae, Bryophyta, and Pteridophyta
ALGAE
Algae is aquatic in habitat and found both in marine and fresh water. They are usually green, having chlorophyll. Mostly they are found on the surface of the ponds where they get ample sunlight for preparing food. Algae may be single-celled or multi-celled. Examples are – Chlamydomonas a single-celled algae and Spirogyra which is a multi-celled filament shaped algae commonly found in ponds.
BRYOPHYTA (MOSSES)
Bryophyta or mosses grow as green, velvety layers in moist and shady places such as damp soil, on the bark of the trees, and on damp walls. These plants have peculiar characteristics that they have stems and leaves, but no roots. Instead, they have threadlike structures called rhizoids which stick to the surface and absorb water and minerals.
PTERIDOPHYTES (FERNS)
Pteridophytes or ferns are grown in most of the garden for their beautiful leaves. They bear well-formed leaves, stem, and roots, but do not produce flowers and seeds. Their leaves produce small rounded bodies on their under surface. These bodies contain tiny spores, which are capable of producing plants. When leaves fall or these spores get scattered and reach the soil, they produce new plants. It is important to note, spores are not seeds.
2.0 FLOWERING PLANTS
Flowering plants are also known as seed-bearing plants. They have two classifications – Gymnosperms and Angiosperms.
GYMNOSPERMS
The Gymnosperms are the group of plants that bear seeds, but no fruits. Their seeds are thin and naked, not enclosed in fruits ('gymno' means 'naked'; sperm means 'seed'). Most gymnosperms are evergreen i.e. they do not shed all their leaves at one time. Some examples are pine, fir, cedar and spruce trees that grow in hilly areas. Pine and fir are usually big trees. They do not bear true flower, but they bear seed inside the cones.
ANGIOSPERMS
Angiosperms are a group of plants which bear flowers, fruits, and seeds ('angios' means 'case' referring to the fruit;  'sperm' means 'seed'). One of the most important characteristics of angiosperms is that their seeds are enclosed in a fruit. Some common examples are mango, peas, apple, sugarcane, grass, etc. In angiosperms, the seeds develop within the female part of the flower, called ovary. The ovary grows into fruit and ovules inside the ovary grow to form seeds.
Think of the plants such as sugar cane and mint or even the lawn grass. Do they bear flowers? They are flowering plants indeed. If you observe the lawn grass carefully, you can, at times, see tiny flowers on it. Similarly, sugarcane, and mint bear flowers. Since these plants are cut for human use before they mature to produce flowers, we do not see their leaves.
Angiosperms can be further classified into two groups – monocotyledons and dicotyledons. If you observe a germinating gram seed, you will notice two thick "seed-leaves". These leaves store food and form the bulk of the seed. Similarly, when you eat peeled groundnuts, you find two thick bits in a single seed. We call these bits – cotyledons. Cotyledons store food require by the seedlings during germination. Monocotyledons are plants which bear seeds with single cotyledon or one seed leaf in their seeds. For examples, maize and carrot. Dicotyledons are plants which bear seeds with two cotyledons or two seed leaves in their seeds. For examples, gram and pea.
3.0 CLASSIFICATION OF KINGDOM PLANTAE ON THE BASIS OF HABIT
Under this classification, flowering plants are divided into three groups based on their habits or physical features – herbs, shrubs, and trees.
HERBS
Herbs are small plants with a soft stem. They do not grow more than three to four feet in height. Examples – Mustard, sunflower, pea, coriander, paddy, and ladyfinger.
SHRUBS
Shrubs are medium-sized plants with hard and woody stems. Many branches are seen rising just above the ground. Examples – China-rose, rose and oleander.
TREES
Trees are tall plants with hard and woody stems. They have the main trunk from which branches and leaves arise. Trees generally survive for a number of years. Examples – mango, coconut, neem, and banyan.
4.0 PLANT KINGDOM CLASSIFICATION ON THE BASIS OF LIFE CYCLE
On the basis of the life cycle, flowering plants can be classified as annual, biennial and perennial plants.
ANNUAL PLANTS
These plants complete their life cycle in one year from seed to flower. They grow from seeds, produce flowers, seeds and die in the same years. Examples – Most herbs.
BIENNIAL PLANTS
These plants have a two-year life cycle. In the first year, they produce leaves and roots. In the winter, the leaves die. The root survives and new leaves, flowers, and seeds are produced in the second year. The plant then dies. Examples – radish, carrot, beet-root and turnip.
PERENNIAL PLANTS
These plants live for many years and produce roots that store food. Food is also sometimes stored in other parts of the plant. The root survives the winter and the plant produces leaves, flower and seeds year after year. Examples – Mango, guava, palm, and coconut.
5.0 CLASSIFICATION OF KINGDOM PLANTAE ON THE BASIS OF MODE OF NUTRITION
Like animals, plants need food. Based on their nutrition, the plants are classified into two groups – autotrophs and heterotrophs.
AUTOTROPHS
As discussed in the post, classification of living things, autotrophs are those plants which prepare their own food. These plants are green-colored due to the presence of green pigment, chlorophyll. With the help of chlorophyll in the presence of sunlight, water and carbon dioxide they prepare food by the process of photosynthesis. Examples – Most green colored plants.
HETEROTROPHS
Heterotrophs are non-green plants and are dependent on other plants or animals for obtaining food. They are of two types, depending upon the source from which they obtain their nutrition – parasites, and saprophytes.
Saprophytes are plants which feed on the dead and decomposed bodies of plants and animals. Examples – yeast, mushroom, and fungi.
Parasites are those plants which obtain their food from other living organisms without killing them. Examples – Cuscuta, Viscum, and Orobanche.
6.0 PLANT KINGDOM CLASSIFICATION ON THE BASIS OF HABITAT
Plants are also classified on the basis of their natural place of occurrence (habitat) as – mesophytes, hydrophytes, and xerophytes.
MESOPHYTES
Mesophytes are plants living on land with sufficient water. Examples – herbs, trees (mango, apple).
HYDROPHYTES
Hydrophytes are plants which live in water. Examples – lotus and water lily.
XEROPHYTES
Xerophytes are plants which live on land having a scarcity of water, as in a desert. Examples – cactus