ELEMENTS AND COMPOUNDS – BASIC CONCEPTS FOR KIDS
In post 'Materials & Substances' you learned that there are millions of substances in this world. In chemistry, we study nature and property of these known substances so we can use them for benefit of mankind.  But, is it possible to study all of them one by one? The answer is 'no it's not'. So in order to proceed, we divide them into groups having similar properties. The first division we make is – pure substances and mixtures. We further divide pure substances into two subgroups – elements and compounds. In this post, we will learn about elements and compounds.
In brief – elements are substances, which have only one kind of atoms and compounds are those, which have two or more different kinds of atoms. But, it's not so simple. So let us try to make it simple for you.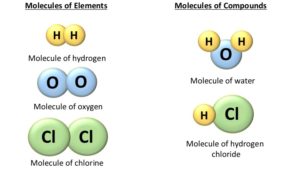 ELEMENTS
There are various kinds of substances around you. Have you tried to think what ultimately makes these substances? It will be interesting for you to know that only a few basic substances (elements) make them all. Let us take a simple example. To build any house, we need mud, cement, bricks, sand, steel, and wood. By using these materials in different quantities, we can make either a simple house or a huge palace. Much in the same way, in nature, there are elements, which combine to make all kind of substances.
We call elements as basic substances because we cannot divide them into two or more simple substances by any chemical method. Elements consist of only one kind of atoms. Therefore, how much you break it; you will end up with the same atom.
Definition of an element for kids –
A substance that cannot be broken into two or more simple substances by any chemical method and made of single kind of atoms, is called an element
Hydrogen, helium, carbon, oxygen, iron, silver, gold and mercury are a few examples of elements. Scientists have so far discovered total 118 types of elements. Of these, 92 occurs naturally in rocks, soil, air, and water. Scientists create remaining 26 artificially in a lab.
Symbols of Elements
Scientists use symbols to represent various elements, instead of their names. For example, (H) stands for Hydrogen, (O) for Oxygen, (C) for Carbon, (N) for nitrogen and so on. We use symbols because when different elements combine together to form complex substance then it is easy to represent it by symbols. Let's understand it by an example. To represent a molecule of sugar we can write either as 'C12H22O11' or as '12 atoms of carbon, 22 atoms of hydrogen and 11 atoms of oxygen'. Clearly, the former method is better.
For a complete list of elements and their symbols, refer periodic table. The periodic table gives the complete list of 118 elements along with other important information.
COMPOUNDS
To understand compound first consider this fact. You know that the English alphabet has 26 letters. By combining these 26 letters, we can make millions of English words. Much the same way you can combine 118 different kinds of elements to make an endless number of compounds. Therefore, a compound is a substance formed when two or more elements combine in a fixed ratio. It is a new substance formed from its elements.
The molecule of compound always contains two or more atoms of different kinds. For example,
Hydrogen (H) and oxygen (O) make water (H2O),
Carbon (C) and oxygen (O) make carbon dioxide (CO2),
Hydrogen(H) and chlorine (Cl) make hydrochloric acid (HCl),
Compounds have properties, which are completely different from the properties of elements that make them. For example – a molecule of water (H2O) which is compound has two atoms of hydrogen (H) and one atom of oxygen (O).  Water is liquid under normal conditions while hydrogen and oxygen are gases. A mixture of hydrogen and oxygen when ignited it creates fire while another way round we use water for extinguishing a fire.
Definition of compounds for kids –
When a molecule of a pure substance contains atoms of two or more elements combine in fixed ratio, it is said to be a compound
We can break a molecule of a compound to get pure elements. However, this breakup is not possible with simple physical methods.  In compounds, chemical bonds join atoms together. These bonds are very strong and difficult to break. Thus, to get original elements (or atoms) from compounds we need to apply chemical methods. For example – to break the molecule of water into its elements hydrogen and oxygen, we need to pass an electric current through it.
FORMULAE OF ELEMENTS AND COMPOUNDS
Formulas are a short way of representing molecules of elements and compounds. They help in understanding the structure of molecules. Formulas are more relevant for compounds than elements as they consist of atoms of different elements. A formula for compound gives the following information:
It tells which elements are present in a compound and
It tells the number of atoms of each element present in a compound.
For example, formula 'H2O' represents water. It tells us that two atoms of hydrogen and one atom of oxygen makes a molecule of water.
DIFFERENCE BETWEEN ELEMENTS AND COMPOUNDS
ELEMENTS
It consists of only one kind of atoms.
We cannot divide the element into two or more simple substances.
There are only 118 types of elements known to mankind.
COMPOUNDS
It consists of more than one kind of atoms.
We can divide the compound into two or more simple substances but by only chemical means.
Different elements can combine to form in numerous compounds.