CHARACTERISTICS OF LIVING AND NONLIVING THINGS
There are millions of different things in the world around us. Some of them are alive and some are not. So, how can we identify a living thing from something that is not alive? In this post, we will learn the characteristics of living and nonliving things, so that we can answer this question. Further, we will also try to find, whether there are any common features between living and nonliving things?
Before we proceed further here are some examples of living and nonliving things: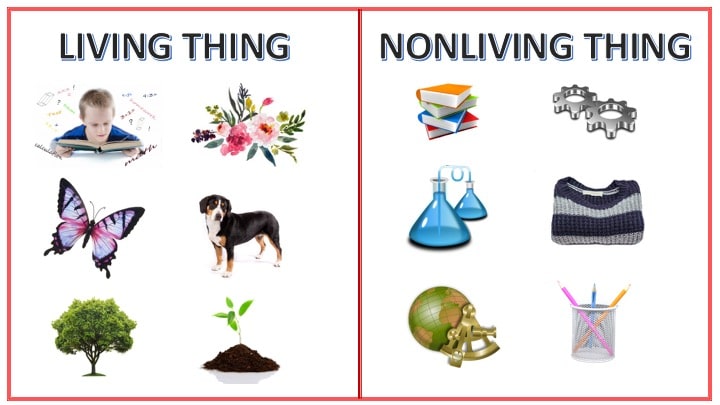 In the above picture, if we compare a plant and a book we will notice that these two objects differ in some respect. A book cannot move on its own, does not eat, cannot grow or produce more book of its same kind. On the other hand, a plant shows all these features – its stem moves in an upward direction, it can feed itself, it grows and produces more plants of the same kind.
COMMON FEATURES OF LIVING AND NONLIVING THINGS
From the above picture, we can identify the following two common features of living and nonliving things:
Cells are basic structural units of living things. They do not exist in nonliving things
Both the living and nonliving things have structural units – cells in the living and molecules in nonliving things.
DIFFERENCE BETWEEN LIVING AND NONLIVING THINGS
We cannot exactly define what 'life' is. Life is something special and unique. All we can do to define life is to describe features that differentiate living from nonliving things. Nonliving things may exhibit one or more of these features but not all. For example, a machine can move, but it cannot grow in size by itself or produce a similar machine of the same kind.
CHARACTERISTICS WHICH DIFFERENTIATE LIVING AND NONLIVING THINGS
Living things differ from nonliving things in many ways. Some of the characteristics of living things which differentiate them from nonliving things are:
1. CELLULAR ORGANIZATION
Of all other characteristics, this is the most important feature which differentiates living from nonliving things. All living things whether plants or animals, all are made of a microscopic structure called cells. Cells are basic structural units of living things. They do not exist in nonliving things. Some living things consist of only a single cell. For example, Amoeba, Euglena, and bacteria. We call them unicellular organisms. However, most of the living things consist of billions of cells. They are called multicellular organisms. For example, mango, potato, rose, butterfly, elephant, tiger, and cat.
2. NUTRITION
It is the process of taking in food. All living beings require food for energy to perform different activities. Food also helps in the growth and repair of the body.
Animals obtain ready-made food in the form of milk, bread, meat, egg, vegetable, and fruits. However, green plants prepare their own food by the process of photosynthesis using carbon dioxide from the atmosphere and nutrients and water from the soil.
3. GROWTH
You are familiar with the growth of a baby into an adult. Similarly, a seed grows into a plant. Growth is a permanent and irreversible process. All living things grow, whereas non-living things do not grow. The pattern of growth, however, is different in plants and animals.
Growth, if present in nonliving things then it is due to external factors. For example, during construction of a house, it grows, but it is due to builders working on it. If builders stop working then the house will not be able to grow further by its own efforts.
4. EXCRETION
It is the process of removal of waste material from the body. Accumulation of waste material inside the body is harmful to all living beings. Thus, it is removed from the body of animals in the form of urine, sweat, and carbon dioxide. In case of plants carbon dioxide and water-vapors are removed from the pores present on the leaves.
5. REPRODUCTION
If somebody asks you, what is one of the most unique features or characteristics of living things which differentiate them from nonliving things? Then your answer will be the reproduction. This is the ability of all living organisms to produce young ones of their own kind. For example, a hen lays eggs, which hatch into chicks, who grow into hens or rooster. A dog gives birth to puppies which grow into dogs or bitches. Similarly, mango tree produces fruits which bear seeds which give rise to new mango trees. But, you can never make a table or chair to do like this.
6. RESPIRATION
It is the process of breathing in oxygen from the air and giving out carbon dioxide. Animals and plants use oxygen to produce energy from the food consumed or produced by them. The living beings utilize this energy to perform various activities.
7. MOVEMENT
Living things show movement. Every day you see the animals, birds, insects and human being are moving from one place to another. This type of movement is called locomotion. Animals move for two main reasons – in search of foods and to escape from enemies.
Some animals like hydra and sponge do not move from place to place in search of food. They are fixed to the ground and catch food with the help of long structures called tentacles.Most plants are fixed to the soil. They are unable to carry out locomotion but show movement. In plants, the stem moves upward and sidewards, to help leaves to get more sunlight. The roots of a plant grow downward and sidewards in the soil to provide support and to search for nutrients and water.
For the better understanding of movement in plants, go through fascinating youtube video of Neil Bromhall
Some non-living things also move, for example, a car or a bus moves, the hands of a clock move. Whether movement of these things is similar to that of living things? The answer to it is 'No'. The car, bus and hands of clock move due to chemical energy provided to them by petrol, diesel or battery which is an outside factor.
8. RESPONSE TO CHANGE
Anything which produces a response in an organism is called a stimulus.Living things respond to change in their surrounding. It is one of the important characteristics of living things which differentiate them from nonliving things. In cold weather, we wear woolen clothes. If we touch something hot by mistake, we respond quickly by withdrawing our hand. During drought roots of plant grows further downward in search of water.
9. LIFE CYCLE
Living things follow a life cycle. They start their life from a single cell and follows the path of growth, reproduction, and death. The life cycle of an organism may take a few hours, a few days or hundreds of years to complete. The period during which an organism completes its life cycle is called the life-span. For some living beings like bacteria, life-span is of few minutes, whereas, for some other like tortoise it is as big as 120-150 years.
DIFFERENCE BETWEEN NONLIVING AND DEAD
We can call only those things as dead, which once lived and followed the life cycle. For example, we can call wood and leather dead because they come from organisms who once lived. But a chair made of wood or a shoe made of leather are non-living. Stone, water and car are nonliving because they never showed any of the characteristics of living things.